Personal Shopping
Gone are the days of the personal shopper; meet the personal buyer.  Each season, our team travels to the runways of New York and Paris not only to realize our store's vision, but to buy specifically for our fashionable devotees.  Reputation is key, and ours allows us access to some of the most exclusive brands and coveted pieces.  Many of these are hand-picked and delivered straight to our clients without even hitting our floor.  In short, we offer a selection and an experience that can't be found anywhere else.

Our expert stylists are eager to help you! Whether you're shopping for a special occasion, new wardrobe after having a baby, or just need styling advice, we're here for you.

To speak with a stylist, call or text 843.724.6373, or chat with us on LiveChat. We're here Monday through Saturday from 11am-6pm EST, and Sunday from 12pm-5pm EST. Or if you prefer email, drop us a line at info@hampdenclothing.com.
Contact us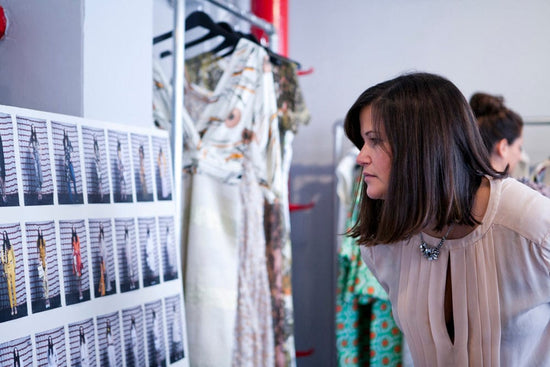 Try Before You Buy
Bring the shopping experience to your home. Add at least 3 items to your cart by clicking the "Try Before You Buy" button on each product page. Once you're ready, just proceed through the checkout process. You won't be charged yet--we simply authorize your card.

Once your box arrives, you'll have 7 days to try on your pieces and make a decision. Need help? Just email us at orders@hampdenclothing.com and a stylist can provide styling advice!

Send back what you don't love using our easy Returns Portal. Once your box returns, you'll be charged for what you kept. Click below to get started!
Learn More
PRODUCTS
Our products come directly from designers from all over the world. Our buyers travel to New York, London, Milan, and Paris four times a year for market appointments directly with designers at their showrooms, and to see their runway shows. We hand select each item that is ordered, and pride ourselves on choosing the most unique and hard-to-find pieces. Each item is 100% authentic and has been shipped to us directly from the designer.

We receive new shipments of products to our store every day. Each item is thoughtfully unpacked, photographed, and placed on our floor. We strive to have these new products added to our website within 3 days of receipt. Our online inventory is supplied through our physical store location and is updated as quickly as technology allows, so what you see on our website is available physically in our store, and vice versa. Online orders are pulled from the floor immediately, but in the rare case that something sells at the same time in store, we will send you an email notifying you of the refund, and are more than happy to provide suggestions on similar styles.
Shop with us